How's that for a catchy Subject title.... :o)
To qualify my statements below, I have lived almost my entire life on wild game meat. My dad was a very good hunter and I have always been quite lucky myself. So with that said, I will give you my opinions on game meat. It's for free and as you know, you get what you pay for.
Years ago, my brother-in-law and I (he got to shoot first as he had spotted it) shot a very large mule deer buck one day (turned out to the be the Montana State Record) and I shot a second mule deer that same day that was not far out of the book, his was with a large herd of does and mine was with a single doe in estrus. They both were very aromatic to say the least.
Me with Fran's Buck. About 1980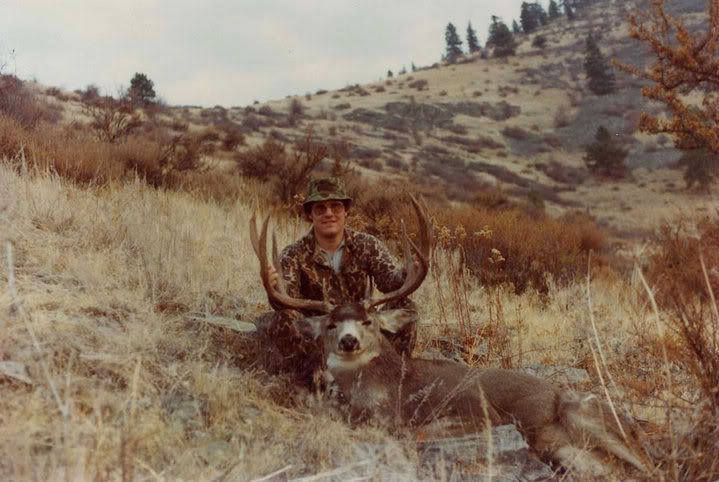 Me with my buck.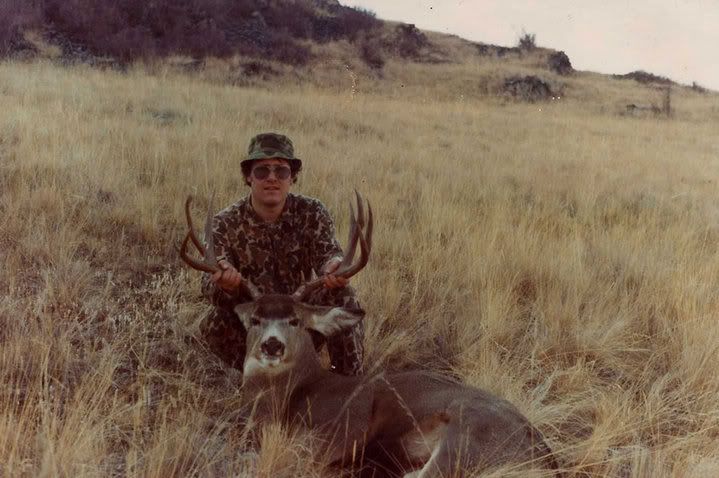 My buck from last year. Shot about 1/2 mile from other two but 30 years apart.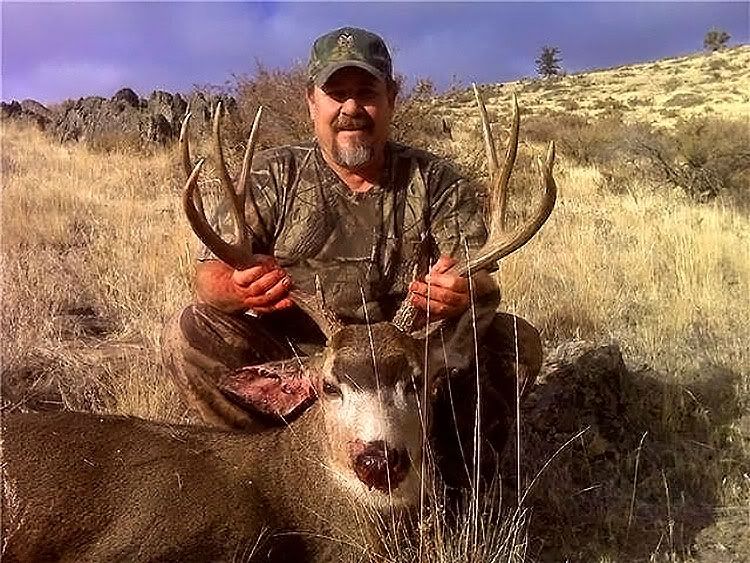 I butchered and ate all three of these bucks and the meat on all of them was very good. I let the first two hang in the garage for about 4 days or so. Since deer meat is quite lean, hanging generally doesn't do anything like it does with beef. Hanging allows the fats to break down and if there is no fat, hanging generally doesn't do anything other than let the blood completely drain out. Not sure if hanging these two helped or not but they were wonderful to eat. These bucks were up over alfalfa fields above a large ranch.
I also shot a small whitetail buck one day that I found back in the woods behind my house that you could hardly shoot through the smoke off the pan he was so tough. Not sure what makes the difference. Shot an old mule deer doe one time above Ovando, MT that the Fish and Game aged at 11 plus. She had no teeth left. She was quite good eating.
I used to sort out the meat on my game, saving the best roasts, trying to cut the most steaks and hamburgered the rest. My wife finally told me that she would just as well prefer me to cut the tenderloins and back straps into thin steaks (makes them easier to eat if they are thin) and hamburger the rest. Now they all are about the same amount of tender... :o)
I have recently started to rinse the few steaks I do cut out in water and let them stand for awhile, then do it again. This takes almost all the gamey taste out of the meat. My dad would occasionally soak steaks overnight in soda water. I think most of the gamey taste is from the blood and you can wash it out. This may also take out a lot of the value of the meat (vitamins and minerals and stuff) but I don't know anything about that.
If the meat is still too tough, about 4 hrs at 325 in the oven in a well sealed bakeing pan over a bed of rice and laddled over with cream of onion or mushroom soup will make boot leather tender. Canning it works quite well too.
I generally try to take good care of my meat. I was over antelope hunting and a wildlife biologist stopped in to get data from our antelope and we questioned him about the "proof of sex" requirement and he told us that we could be fined if we boned the meat and brought back the hides and heads as proof. Since then, I leave mine whole until I get back home. I have friends who insist on getting the hides off almost immediately and others that let antelope lay 3 deep in the back of a suburban and don't get to them for several days before they skin them. I have eaten meat from both and can't really notice the difference. I try to do a careful job of gutting, if I have water I rinse the insides (head and neck shots keep the insides a whole lot cleaner but there's risk involved), get the hides off as soon as I can, and keep the hair and trash off and out of the meat. Gut shooting can do wonders for the taste of the tenderloins and definitely has an overall affect on the quality of your experience! A little care up front can improve the whole situation tremendously.
There's a lot of folks that talk about not running the piss out of them before you shoot one. Who knows what the last guy that was on them did. All they know is if they shot them quiet like. You may have a case if it is first thing in the morning but after that, who knows how long that antelope or deer has been running. I have shot running antelope before but would prefer them to be quiet and unaware. Not due to taste but due to ethics I suppose.
And if economics are involved, shooting one large buck equals about 3 little bucks or does. A large buck in rut will have about 40 lbs of hamburger in his neck. And if you still need to improve your cost ratios, cut a load of firewood on your way out and pay for the whole trip... Truly free meat!!!
Just don't wreck your truck on the way home. Two brothers locally here rolled their pickup on the way home from hunting the other day and killed them both. Left two wives and a bunch of kids. Most dangerous part of the hunt is coming and going...