Buck taken in the Duck Mtns. in Manitoba with my .50 1 3/4". Been with out it for
a while as I had Shiloh replace the 26" half oct with a 30" full oct, 36" twist and a tight chamber for
excluseive shooting with paper patch bullets. Thanks Kirk!
I hunt on horseback out of a tent camp that is about 25 miles into the bush. The horses are used
to get to the hunting spots and from there one can either sit in a tree stand or still hunt. I've killed deer
using about every hunting method except just riding around on the horse looking for a deer to shoot.
On the second day, while riding through a valley along a river, I saw the backs of some deer walking through
the bush between myself and the river so I slid off the horse and sliped the .50 out of the saddle scabbard.
There was about 20 yards of bush to get through untill I got to where it opened up right next to the river, where I
saw three does and a couple fawns had just crossed the river and were entering the bush on the other side, about 100yards away.
Just to the left of where the does were going through the bush was a very large white pine and I could see deer legs through the bottom
branches and a patch of hair through some higher branches. I got the binos up and started studying the deer to see if it was a buck and
sure enough it was and I figgured to shoot him. As the last doe went past him he turned to go, so I gave out four loud grunts out of a grunt tube
and that stopped him. There were to many branches to shoot through but I could see his head and neck clearly now so I gave out two more
good grunts and got the gun up and got a bead on him as I just needed him to take one step more. After a couple seconds he took that step
and I let her rip. He took off running like hell but I knew I got him as I heard the bullet thump and a few seconds later I heard him crash into
a tree. When I got to the spot were he was standing, about 125 yards away there was blood everywhere and a very easy to track blood trail.
The buck was alot bigger than I thought.
I used a 475 gr pp bullet, 40-1 alloy out of an original style mould. 70 gr. swiss 1.5. When I gutted him is heart was blown nearly in half with
only some tissue on one side holding it together.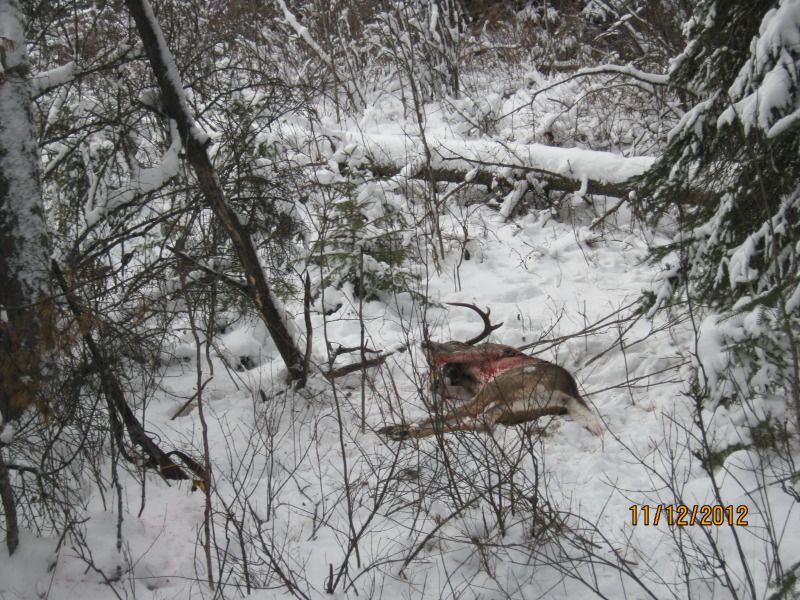 Why I like the .50
Set up a little camp to dry off all the sweat after dragging him across the river.
Got some more stuff to post but I'm still relearning photo bucket
Hope the rest of you had good huntin seasons.
Gannon